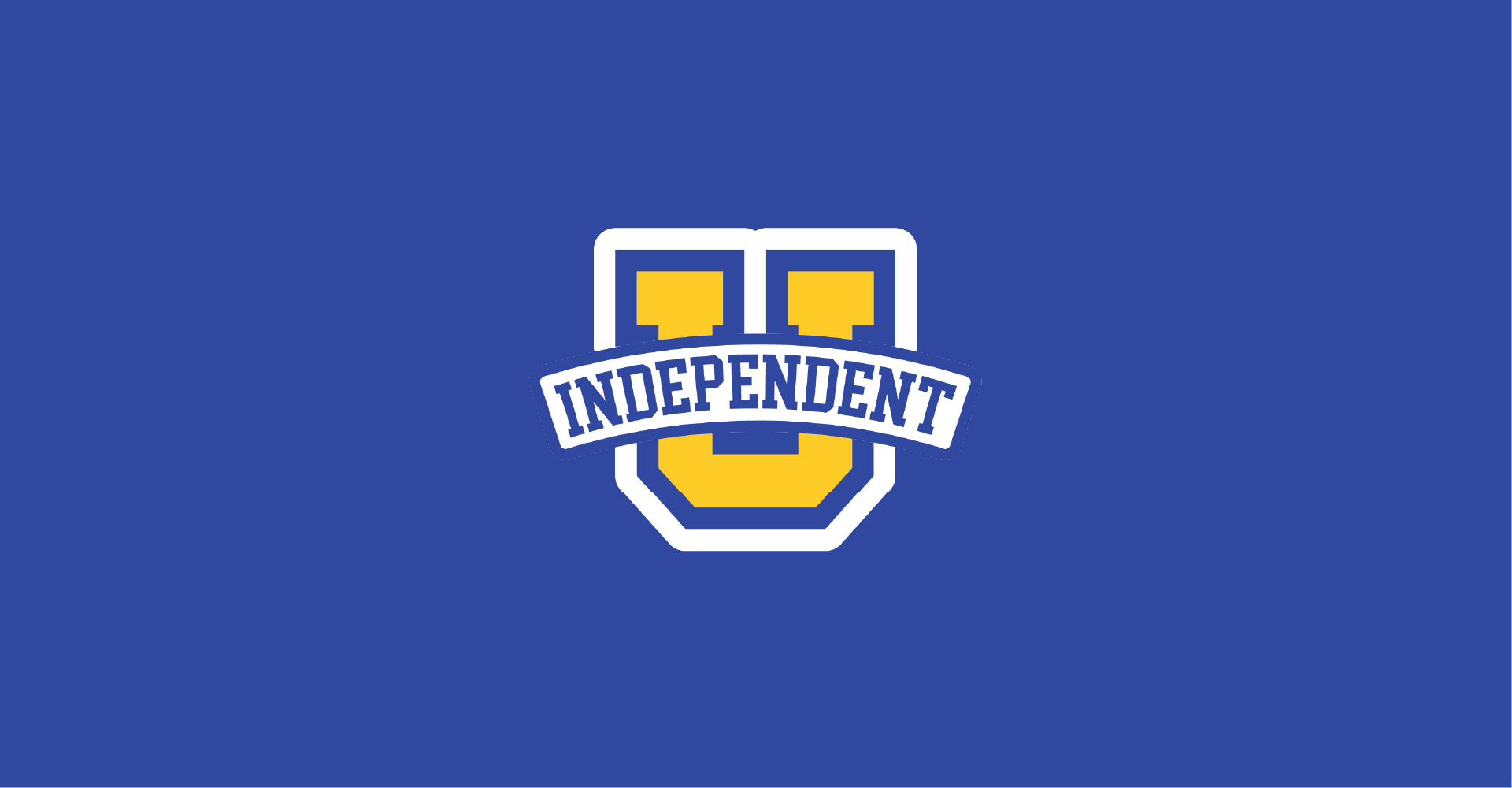 We firmly believe learning shouldn't stop in the classroom. That is why we are offering an innovative day-habilitation program, Independent U.
 As a day habilitation program, we do not want to just be a place to go from 8 am – 4 pm on weekdays. We want to be a place to grow and foster true independence.
 Our clients deserve to make a difference in their community and find their passion. That is why we have partnered with community organizations, service projects and individuals to put our clients at the center.
Here's what a day at Independent U looks like:
And by that, we mean what a day MIGHT look like at Independent U. It's different for every client. Because we believe in tailoring schedules to the individual and what they WANT for their life.
 It starts with transportation to the program. Then, we'll get settled in for a day full of fun and growth.
 Every day we'll have lessons and training on the 11 Categories of Independence. We'll cover two of the Categories of Independence each day and review two from the previous day. By the way, this isn't a classroom. We teach through action. We move around. This is REAL LIFE.
 Here's a quick bullet list of the fun you'll experience each day:
Social skills activities (From board games to yoga on the river — this is time to make connections.)
Community expeditions (YOU choose what this looks like – we'll help you make it happen.) Examples: packing food at the Food Bank, taking art classes, interacting and learning from business owners. Whatever your interest is, we're here to support.
The 11 Categories of Independence training. Again, this isn't a classroom. We're teaching through doing.
Lunch and lunch-prep
Meetings with community mentors (If you want to learn to cook, let's learn from a real chef.)
Time at our state-of-the-art clinic (We've got virtual reality and arcade games, folks. It doesn't get much better than that.)
Transportation to and from the program
Our goal is for Independent U to not just be a place to go, but a place to flourish. It's about quality of life and Morning Star has found a way to measure and maximize this through a custom-designed index called the 11 Categories of Independence.
 How to enroll?
 We take everyone from 14 to 80 years old. (High school students, we give you the option to pre-enroll!). Currently, this program is only offered at our Cape Girardeau clinic, from 8 am – 4 pm on weekdays.
For more information about Independent U, call us at 573-225-6678.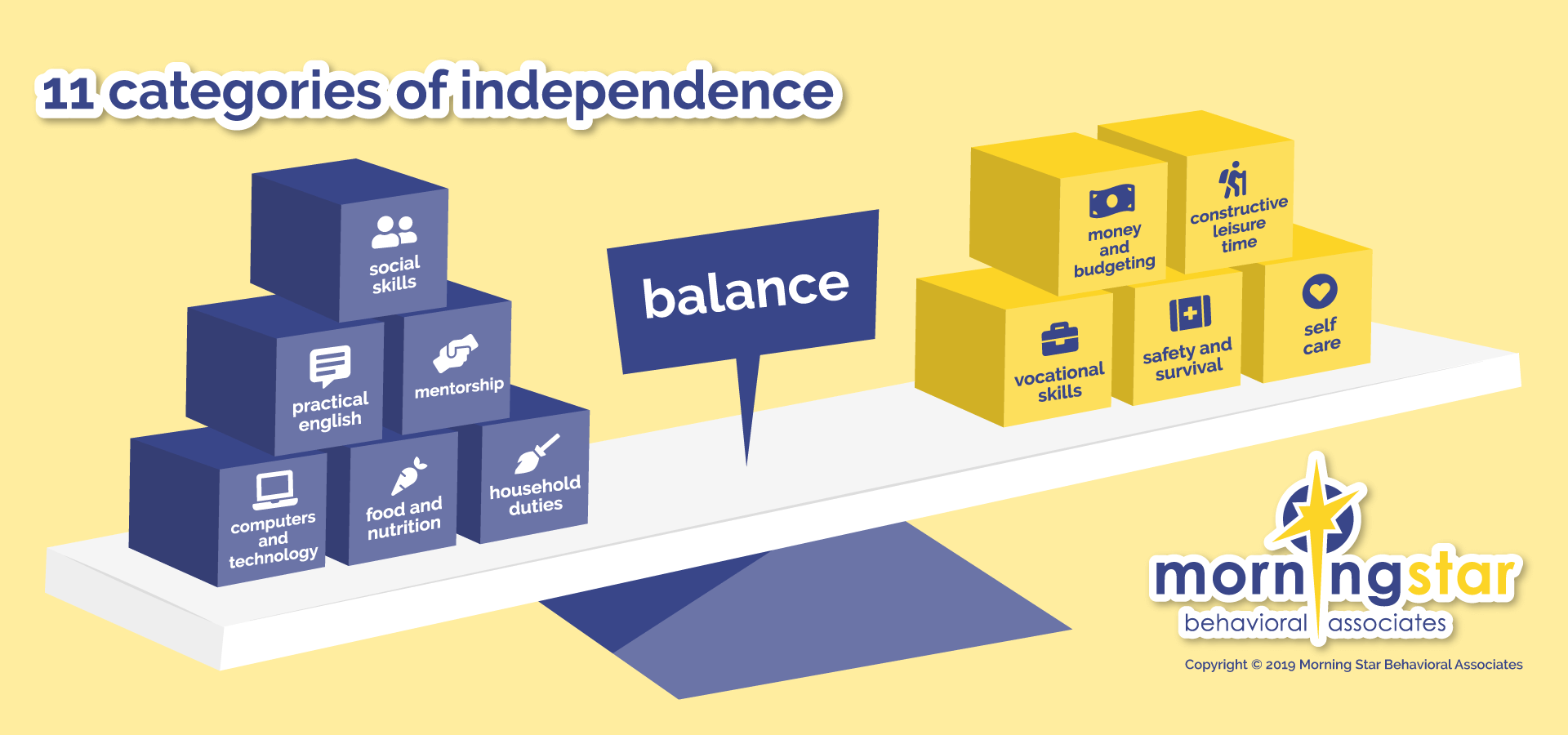 11 Categories of Independence
 With the 11 categories of independence, Morning Star takes a data-based approach with practical solutions. We treat the person as a whole and work to reach their dreams, not ours. This method has been piloted in two states with three different populations, from high school students to adults, with much success.
The 11 categories of independence include:
Social skills: learn what is OK and when
Practical English: learn to read the electrical bill, not flash cards
Mentorship: match people with leaders in the community
Household duties: teach responsibility and self-sufficiency
Vocational skills: nurture everyone's capability of improvement and the dignity of work
Money and budgeting: understand the value of a dollar through a comprehensive program
Self-care: teach people, so they can do for themselves
Constructive leisure time: plan activities with real friends at little to no cost
Food and nutrition: combine healthy recipes with wholesome foods that are simple to manage in the kitchen
Computers and technology: use assistive devices and technology as an asset, not an adversary
Safety and survival: teach basic safety and survival skills
how can we help?

Morning Star has the blessing and honor of working with a diverse group of people. We help adults and children with behavioral concerns and learning difficulties. Our partners are well seasoned in helping individuals with both developmental disabilities, Intellectual Disabilities, Mental Illness and Autism. We are able to accomplish this through the science of Applied Behavior Analysis (ABA). Our ABA methods can find the reasons for behaviors and use that data to help individuals find better ways to interact with their environment. Our passion is to serve people by putting them in control of their own future.