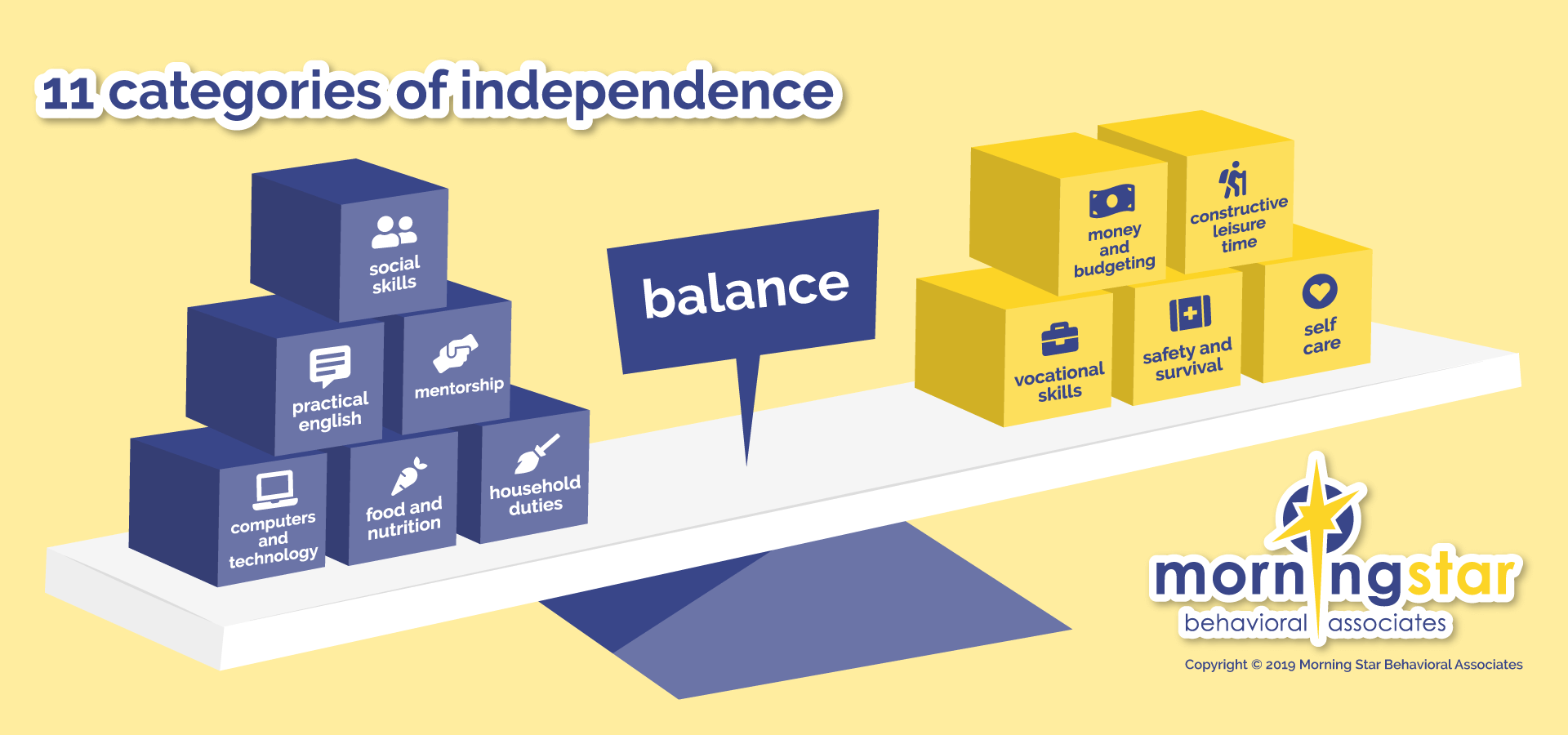 Morning Star—where people matter. We teach functional skills that impact a person's everyday life. With 11 categories of independence, we take a data-based approach with practical solutions. Using a holistic approach, we treat the person as a whole and work to reach their dreams, not ours. This method has been piloted in two states with three different populations, from high school to adults, with much success.
The 11 categories of independence include:
social skills

Teaching what is okay, and when.
food and nutrition

Combining healthy recipes with fresh and wholesome foods that are simple to manage in the kitchen.
vocational skills

Everyone is capable of improvement and the dignity of work.
practical english

People need to learn to read their electric bill, not flash cards.
household duties

Teaching responsibility and self sufficiency.
safety and survival

Do you know how to reset your circuit breaker after a power outage?
mentorship

Matching people with people, creating community.
money and budgeting

A comprehensive program to understand the value of a dollar.
self care

Teaching people so they can do for themselves.
computers and technology

Using assistive devices and technology as an asset, not an adversary.
constructive leisure time

Planning activities with real friends that don't break the bank.
how can we help?

Morning Star has the blessing and honor of working with a diverse group of people. We help adults and children with behavioral concerns and learning difficulties. Our partners are well seasoned in helping individuals with both developmental disabilities, Intellectual Disabilities, Mental Illness and Autism. We are able to accomplish this through the science of Applied Behavior Analysis (ABA). Our ABA methods can find the reasons for behaviors and use that data to help individuals find better ways to interact with their environment. Our passion is to serve people by putting them in control of their own future.